In Essentials, Unity.
In Non-Essentials, Liberty.
In All Things, Charity.
We exist to LOVE God & people,
PROCLAIM Christ,
BUILD community,
EQUIP the saints,
MULTIPLY ministers,
and missionally SEND out
followers of Christ
to be the Church
wherever we are.
Fall Festival Candy Needed!
CANDY CALL!!
Please drop off your candy donation to the church office M-TH 9-4
Free to your family!
Our annual celebration looks slightly different than it has in the past, but even in shaking things up to incorporate our Covid-19 safety regulations we are confident that this is going to be the most fun your family has had all year. Join us for the whole event, roll through for part of it, or stop by just long enough to grab something from the delicious food trucks as you celebrate with your family.
Here's what we have for you!
3-5 PM:
Drive-Thru Trunk-or-Treat
Just like our traditional Trunk-or-Treat event, except this time you stay in your vehicle, roll down your windows, hold out your candy bags and let the goodies come to you. As you pause your vehicle in front of each kid-friendly decorated trunk (or canopy/tent) our volunteers will utilize contactless options for dropping the treats in your candy bag while maintaining 6 ft of physical distance. Sweet!
5-7:30 PM
Drive-In Movie
featuring
Monsters, Inc
. &
Car-stume Contest
(North Lot Entrance)
Drive-In: Gates open at 5 PM
and the
movie will begin at 5:30 PM
. Come early to park in a prime spot and watch from the comfort of your vehicle or bring a picnic blanket and enjoy watching in the grass up close to the big screen.
Car-stume Contest: Let's add some fun and dress up our cars! Car-stume will be judged based on Creativity, Originality, Attention to Detail, Story/Theme (Kid-friendly), Matching Passenger Costumes, How Interactive It Is, & Quality of Construction. The winner will be announced at the end of the movie. Must be present to win the prize.
4-8 PM Food Trucks!
Food trucks are open and ready to serve you some delicious food. Check out their menu ahead of time and have your food order ready. The People's Burger
Restrooms:
Please note that this is an outdoor event and our physical church building will be closed to all attendees. We encourage you to stop for a restroom break before arriving.
Safety:
We will be following all of the CDC safety protocols laid out for church celebrations (i.e. pre-screening and temperature checking all of our volunteers prior to volunteering, wearing face masks and gloves, maintaining 6 ft physical distance with anyone not in our own households, sanitizing frequently, etc.) in every circumstance possible.
Here's what we ask of you:
Feeling Blessed by this celebration? Bring along a canned good item. We will be collecting non-perishable food items for our local White Center Food Bank.
Feeling sick? Stay Home!
5 & up, mask up! 2 & up, masks are highly recommended. We ask that you wear your mask any time you exit your vehicle (i.e. walking to the food trucks) or have your window down for our Drive-Thru Trunk-or-Treating. Please follow CDC guidelines for safety regarding masks this Halloween season. https://www.cdc.gov/coronavirus/2019-ncov/daily-life-coping/holidays.html
Do your part to follow and encourage social distancing guidelines in all circumstances.
Please pre-screen each person in you party before arriving. We will be asking each vehicle to confirm the following questions prior to entry:
1. In the last 14 days no one in my vehicle has experienced any of these symptoms:
Cough
Shortness of breath or difficulty breathing
Or at least two of these symptoms
Fever
Chills
Repeated shaking with chills
Muscle pain
Headache
Sore throat
New loss of taste of smell
2. No one in my vehicle is living with someone who is ill.
3. In the last 2 weeks, no one in my vehicle has:
Been in contact with someone diagnosed with COVID-19
Traveled internationally
An inherent risk of exposure to COVID-19 (Coronavirus) exists in any public place where people are present. COVID-19 is an extremely contagious disease that can lead to severe illness and death. According to the Centers for Disease Control and Prevention, senior citizens and guests with underlying medical conditions are especially vulnerable.
By visiting our Fall Festival you voluntarily assume all risks related to exposure to COVID-19 and you agree to follow all safety guidelines. You also agree to hold Grace Church harmless. Let's keep each other healthy and safe.
Alpha happens here.
Join us Wednesdays at 6-8pm
What to expect
Alpha runs in cafés, churches, universities, homes —you name it. No two Alphas look the same, but they generally have three key things in common: food, a talk and good conversation.
Food
Whether it's a group of friends gathered around a kitchen table, or a quick catch-up over coffee , food has a way of bringing people together. It's no different at Alpha. We start with food, because it's a great way to encourage community and get to know each other.
Talk
The talks are designed to engage and inspire conversation. Generally thirty minutes long, they can be given as a live talk or played as a video. They explore the big issues around faith and unpack the basics of Christianity, addressing questions such as Who is Jesus? and How can we have faith.
Discussion
Probably the most important part of any Alpha: the chance to share thoughts and ideas on the topic, and simply discuss it in a small group. There's no obligation to say anything. And there's nothing you can't say. It's an opportunity to hear from others and contribute your own perspective in an honest, friendly and open environment
Bless Children Around the World Without Leaving Home


Now more than ever, children need great joy! You can give boys and girls in need a tangible expression of God's love through a gift-filled shoebox packed from your computer or handheld device. In just a few clicks, you can select toys and other fun items to include as well as a letter and photo to delight the heart of a child. After we pack and ship shoeboxes like yours overseas, local believers share the Gospel of Jesus Christ with children as they distribute them. As a result, families are reached, new churches are started, and communities are transformed. It all begins with you. Pack a shoebox online today!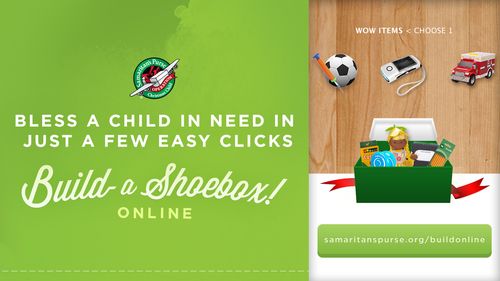 Home Communities are the heart of our church, based on Acts 2:42-47. The early Christians devoted themselves to the Apostles' teaching, fellowship, the breaking of bread, and prayer. You wont find a more powerful small group experience anywhere.